IJCNN Conference: 13-19 June 2009
21 Jun 2016
Professor Nikola Kasabov – Director of the Knowledge Engineering and Discovery Research Institute (KEDRI) at AUT, is the current President of theInternational Neural Network Society (INNS), which has members from all over the world. INNS is the premiere organization for individuals interested in a theoretical and computational understanding of the brain and applying that knowledge to develop new and more effective forms of machine intelligence used across all disciplines. Professor Kasabov opened the premier International Joint Conference on Neural Networks (IJCNN), held in Atlanta, USA, 13-19.06.2009 and gave an invited talk. With him was his PhD student Stefan Schliebs who gave a tutorial at the conference. The conference attracted more than 600 people from 75 countries to discuss the current trends in neural networks, brain study and intelligent systems.
IBM Visit
Preceding the conference, Professor Kasabov was invited to visit the IBM Brain research Centre at Almaden, California. He and Dr Dharmendra Modha – Director of the Centre, agreed to jointly develop a large scale simulator of about 10 mln neurons and several billions of connections, based on the probabilistic model by Prof. Kasabov and implemented on the IBM in-house Blue Gene supercomputer. Such model, the first of this scale, can be further used for the study of brain diseases and also for solving complex engineering problems.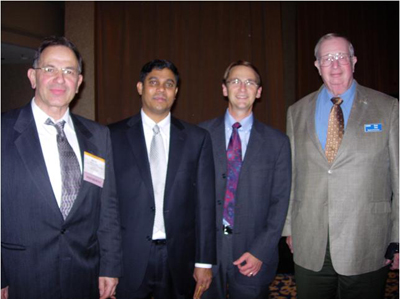 At the IJCNN 2009 conference, Atlanta, 13-19.06.2009. From left: Prof. Kasabov – INNS President; Prof. Kumar (Missouri) – Program Chair; Dr D.Fogel (San Diego) – President of the IEEE Computational Intelligence Society; Dr. Richard Vouge (San Diego) – Director IEEE, section 10.