AUT is shining at the Commonwealth Science Conference
21 Jun 2016
The only invited speaker from NZ – Prof. Kasabov and three young researchers and PhD students from AUT (out of 8 NZ delegates) represented NZ at the First Commonwealth Science Conference in nearly 50 years, held from 25 to 28 November 2014, in Bangalore, India.
The motto of the conference was 'science for the common good' and the main purpose was to inspire young scientists and to facilitate research collaboration between the members of the Commonwealth in the 21st century. The conference was by invitation only. There were 350 delegates, mainly young researchers and 105 students, selected by their national organisations. As role-models for young scientists, 53 world-renowned scientists across all main areas of sciences in the Commonwealth, were invited and fully sponsored by the Royal Society London as invited speakers to present the state-of-the-art in their respective science areas.
The conference was co-hosted by the Royal Society and the Government of India. Much local media attention was directed at the conference because the attendance of distinguished researchers and honourable guests. The opening ceremony saw delivery of a message from the Queen by the Duke of York. The President of India then officially inaugurated the conference in front of nearly 600 delegates from more than 33 commonwealth states including a large group from India. Nobel Prize laureate and President of the Royal Society, Sir Paul Nurse, and recipient of Bharat Ratna, the highest civilian award in India, Professor NCR Rao, also delivered enthusiastic lectures on issues regarding science and research.
A multitude of important topics were covered at the conference, including environmental sciences, health & medical sciences, mathematical and information sciences. The invited by the RS 53 speakers, most of them Fellows of the Royal Society, presented inspirational talks on their respective fields. Interesting plenary lectures were presented by S. Cory (Australia), Sir R.Friend (UK), Lord Martin Rees (UK), Low Teck Seng (Singapore), R.Gadaktar (India) and others, followed by lively discussions. Kiran Mazumdar-Shaw of Biocon Ltd, N R Narayana Murthy of Infosys and others presented their views of the role of entrepreneurship in science and technology.
Panel discussions on the crosslink between science and politics across all regions of Commonwealth counties were held. The panellists and delegates focused on improving the regulatory strategies surrounding education, R&D, and engagement with governments.
The enthusiasm and knowledge on display at the conference were truly infectious, and were of enormous value particularly for young researchers and PhD students to further embrace and implement the spirit of commonwealth science to ensure a sustainable, healthy, and smart future for our society.
Eight delegates and PhD students from NZ, selected by their Universities, participated in the conference with interesting poster presentations. The largest group was from AUT: Dr Alice Theadon (FHES), PhD student Gardette Valmonte (FHES) and Dr Lulu Wang (FDCT). The only invited speaker from NZ Prof. Nikola Kasabov, FRSNZ, FIEEE, presented a very well received talk on 'Computational Intelligence'. All participants from NZ thanked the Royal Society of London, Queen Elizabeth Diamond Jubilee Trust, the Government of India, their respective Universities and the Royal Society of New Zealand for supporting their participation.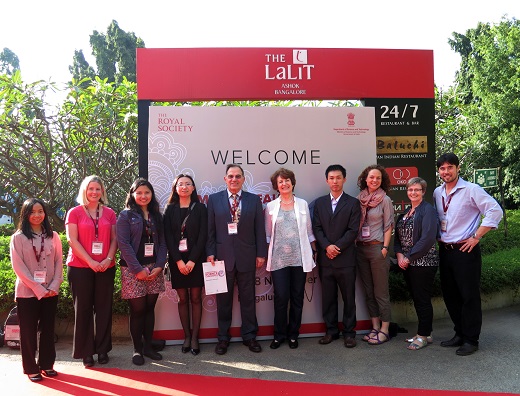 Photo: (from left to right) Dr. Sandar Tin Tin (UoA); Dr. Alice Theadon (AUT); PhD student Gardette Valmonte (AUT); Dr. Lulu Wang (AUT); Prof. Nikola Kasabov (AUT); Diana Kassabova (AUT); Dr. Peng Du (UoA); Dr. Lucy Jack (U of Otago); Dr. Rebecca Brookland (U. of Otago); Dr. Thomas Maxwell (Lincoln University).