Prof.N.Kasabov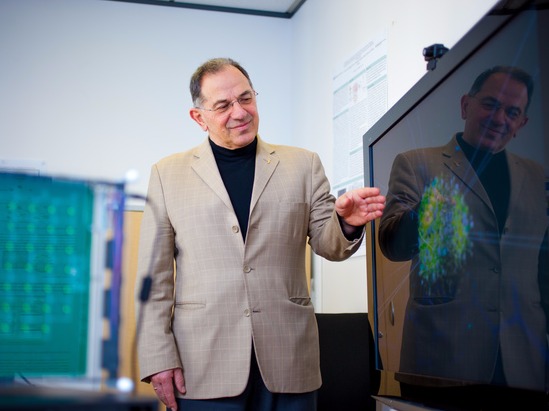 ---
Professor Nikola K. Kasabov, Fellow IEEE, Fellow RSNZ, Distinguished Visiting Fellow of the Royal Academy of Engineering and the Scottish Computer Society, UK, is one of the leading scientists in neural networks and computational intelligence.
The Pioneer of the Brain-Like Artificial Intelligence (BLAI)

Professor Kasabov has pioneered ground-breaking information theories, methods and technologies for adaptive machine learning and intelligent information processing, including the theories of Evolving Connectionist Systems, Neuro-fuzzy systems, brain-inspired Spiking Neural Networks. He has 28 patents and 600 publications, cited widely. His work has had a significant international impact on the advancement of methods and systems for computational intelligence internationally. For example, his book Foundations of neural networks, fuzzy systems and knowledge engineering by MIT Press (1996) has been cited thousand times (https://scholar.google.co.nz/citations?user=YTa9Dz4AAAAJ). He is the single editor for the Springer Handbook of Bio-/Neuroinformatics, 2014, downloaded more than 300,000 times. He has given 50 keynote talks. He is co-editor-in-chief of the Springer journal Evolving Systems, and Associate Editor of 15 international journals, including Elsevier's Neural Networks, Information Sciences, and also IEEE Transactions.

His contribution to the computational intelligence research environment and research culture in New Zealand has been significant. He established new academic courses in computational intelligence, neural networks, knowledge engineering, bioinformatics, neuroinformatics at the University of Otago 25 years ago, and at AUT in the last 15 years. He established the Knowledge Engineering and Discovery Research Institute (KEDRI) at AUT in 2002 and the Knowledge Engineering Lab at the University of Otago in 1992 - both of them incubators for high quality research and postgraduate education. Much of the research produced has led to commercial applications, such as co-founding Pacific Edge Biotechnology Ltd at Otago, and leading application projects with other New Zealand companies and organisations in the areas of bioinformatics, neuroinformatics, ecological and environmental modeling, predictive modelling on climate-, seismic-, ecological and brain data, contributing to lead position of New Zealand internationally.
Porf. Kasabov is the pioneer of the Brain-Like Artifical Intelligence (BLAI) with the introduction of the NeuCube spiking neural network architecture and its numerous AI applications.

Professor Kasabov is an established leader in national and international professional organisations. He is a Fellow of the RSNZ, Fellow of the NZIITP, one of the few NZ Fellows of IEEE (Institute of Electrical and Electronic Engineer), Distinguished Visiting Fellow of the Royal Academy of Engineering and the Scottish Information and Computer Association UK, President of the International Neural Network Society (INNS) (2009-2010), and President of the Asia-Pacific Neural Network Assembly (APNNA) (1997, 2008). Since 1993 he has chaired the ANNES/NCEI series of conferences in NZ.

He has supervised more than 20 postdoctoral fellows, 40 PhD graduates, many Masters and Honours students who have now joined data science and technology activities in New Zealand and overseas.

Professor Kasabov has received many awards and recognitions, including: APNNA 'Outstanding Achievements Award'; INNS Gabor Award for 'Outstanding contributions to engineering applications of neural networks'; EU Marie Curie Fellowship; Bayer Science Innovation Award; APNNA Excellent Service Award; RSNZ Science and Technology Medal; Advisory Professor Shanghai JTU; and Visiting Professor ETH/University of Zurich and RGU Scotland; the AUT 2015 Medal for Exceptional Academic Achievements; Honorary Member of the BUlgarian Academic Computer Society and the Greek Computer Society; Honorary Citizen of Pavlikeni city in Bulgaria, and many others.