Anne Wendt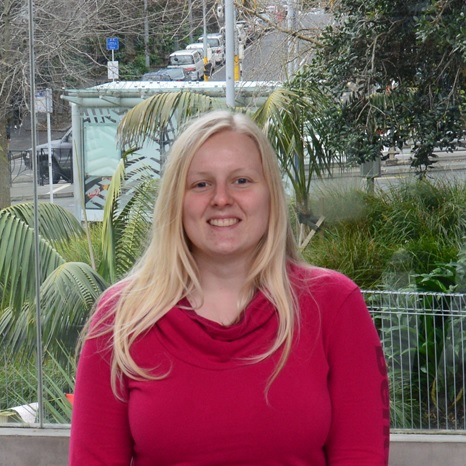 Anne Wendt is a PhD student at KEDRI under the supervision of Professor Nikola Kasabov and A/Professor Jacqueline Whalley. Her thesis explores computational brain-like modelling of cognitive processes of audio-visual information perception and processing. In particular, Anne is interested in using Spiking Neural Networks to simulate language learning and understanding using a biologically plausible model of sound and video transformation into electrical signals. Anne received a BSc in Business Information Systems from DHBW Mannheim (Germany) in 2012, and a Master of Computer and Information Sciences with First Class honours from AUT in 2015. She was awarded a PhD scholarship from AUT's School of Computer and Mathematical Sciences in 2015 to continue her studies at AUT. She serves as elected Doctoral Representative on the University Postgraduate Board, and as a board member for the IEEE Women in Engineering New Zealand North Section in the role of Treasurer. Anne has been an active member of IEEE, ACM, and several AI-related meetups for over a year and is involved in organising events targeted at women in technical fields. She is also volunteering for OMGTech!, an organisation that aims to give all New Zealand children access to technologies by hosting a variety of workshops around the country.
External Links:
Qualifications:
BSc in Business Information Technology from Baden Württemberg Cooperative State University in Mannheim, Germany (2012)
Master of Computer and Information Sciences from Auckland University of Technology, New Zealand (2015)
Memberships:
IEEE Student Member
ACM Student Member
Prizes or Scholarships:
Yearly Scholarship for Graduates by the German Academic Exchange Service in 2012
Eagle Technology Scholarship for the top first year postgraduate student in Computer and Information Sciences progressing to complete an MCIS degree from AUT in 2013
Dean's Award for Academic Excellence from AUT in 2015
IBM Top Master's Cup for the highest achieving student in AUT's SCMS in 2015
IEEE Computational Intelligence Society Outstanding Student-Paper Travel Grant in 2016
Teaching Area:
COMP606 Foundations of Information Sciences in Semester 1/2017
COMP712 Programming Languages in Semester 2/2017
Research Area:
Artificial Intelligence
Audio-visual information processing
Natural Language Processing
Publications:
Conference
Abbott, A., Sengupta, N., & Kasabov, N. (2016). Which Method to Use for Optimal Structure and Function Representation of Large Spiking Neural Networks: A Case Study on the NeuCube Architecture. Presented at the International Joint Conference on Neural Networks, Vancouver, Canada.