AUT presence in China - for the present and the future
The NZ Education in China was held in Shanghai, 13-18 June 2010, during the World Expo.
The NZ Education in China was held in Shanghai, 13-18 June 2010, during the World Expo.

It was attended by a large delegation from all NZ education sectors, including tertiary education. The TEC Minister Hon Steve Joyce and the VCs of most the NZ Universities attended the events. The AUT VC Derek McCormack - the present Chair of the NZVC Committee, was accompanied by a delegation from AUT.

A special event in Shanghai, attended by the NZ VCs, the NZ and China Ministers and Vice Ministers of education, science and technologies, was devoted to the tripartite projects, each involving a University from East China, University from West China and University from NZ.

Initiated by KEDRI, AUT was one of the first Universities in NZ, along with Auckland and Massey, to sign such an agreement in 2008.

KEDRI's partners are Shanghai JiaoTong University (SJTU), ranked among the top 3 in China of a total of 3,300 universities, (without counting the polytechnics) and Xinjiang University in Urumqi - the capital of the largest province in China - Xinjiang.

The three partner Universities presented a report for their successful activities in the area of 'Computational Intelligence: Methods, Systems and Applications for environmental and ecological data analysis and modelling'.

The Ministers of NZ and China announced the establishment of a special funding to support the tripartite programs.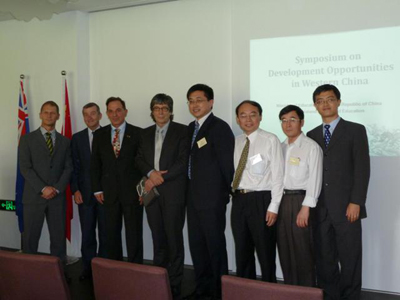 From left to right: Prof. N.Hemmington, C.Hawley. Prof. N.Kasabov, AUT VC Derek McCormack, SJTU Vice President Prof. Zhang Wenjun, SJTU Prof. Yang Jie, Xinjiang University Vice-President Prof. Zhang Jun, Dr P.Pang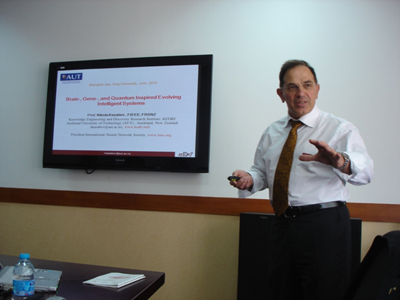 Later in the week Prof. Kasabov gave a talk at the SJTU and was presented with a plaque of an Honorary Invited Guest Professor at the SJTU for the next 3 years. This very prestigious status is bestowed by SJTU only to selected top world scientists.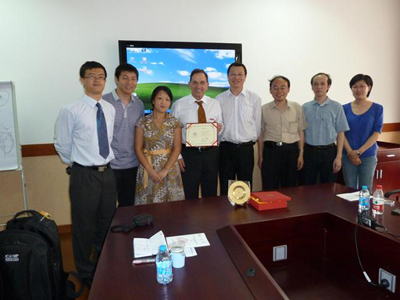 Prof. Kasabov, Dr Pang and C.Hawly also visited the Xinjiang University as part of a NZ delegation to West China. The partners planned future work that would include the establishment of an International Center for Intelligent Systems in Urumqi.