INTELLECTE
The Intelligent Information Technologies for Innovation, Interaction and Creativity in Complex Data Modelling and Decision Support programme will develop novel information methods and will apply them for innovative IIT for complex data modelling and decision support systems across application areas.
The programme is organised in three tiers:
Generic Science Methods
Research Themes
Specific Technology Innovation Projects
At the core of the programme is the fundamental (generic) science of computational intelligence, including, but not limited to: neurocomputation, evolutionary computation, machine learning, data mining, data analytics, decision support, scientific data visualisation, parallel and distributed computing.
Research themes
Neurocomputing for machine learning and predictive modelling on spatio/spectro temporal data
The research here will continue the development of a novel neuromorphic information processing architecture called NeuCube and related methodologies for machine learning from spatio-temporal data and for early event prediction. It will be led by N.Kasabov and will involve all NZ participants, in collaboration with the Manchester SpiNNaker team led by S.Furber, the China Academy of Sciences team led by Z.Hou, and other overseas participants - Indiveri, Cihotzki, Ozawa, Yang. This theme will provide methods and platforms to support most of the specific projects in the INTELLECTE programme as explained further in this section.
Stream and large data modelling and mining
This theme will explore a new methodology for stream data analysis based on neurocomputing and drift analysis. The team includes Pears, Kasabov, Gulyaev, Pfahringer, Dobbie. This methodology will be used in several specific projects.
Computer vision and image technologies
This stream explores new methods for fast video and image scene data analysis, including neuromorphic computation with dynamic vision sensors (DVS), also called artificial retinas. The theme included W.Yan, R.Klette, D.Bailey, N.Kasabov.
Intelligent human-computer interaction
The team includes C.Walker, F.Joseph, M.Billinghurst, M.Sagar, R.Jones, S.Marks, S.Weddell and will explore new techniques for visualisation, augmented and virtual reality, wearable computers, affective computing.
Smart systems design and optimisation
Our team will explore a new collaborative approach to distributed software/hardware system design. The team includes T.Clear, S.MacDonell, S.Salcic, M.Winikoff, A.Connor, S.Singamneni, A.Malik. We will also explore methods for complex system optimisation at the design phase, such as 3D printing design, including meta evolutionary computation and quantum-inspired computation.
The methods above will be applied for the development of 12 highly interactive and highly collaborative Specific Technology Innovation Projects. Each project will be conducted by a collaborative team including established researchers, emerging researchers and postgraduate students. Each project is a feasibility study on the creation of an innovative IIT to solve a specific and well defined problem with a potential to be further extended. Each project will deliver: (1) a pilot prototype system; (2) a report on the feasibility analysis: (3) at least one journal paper submitted.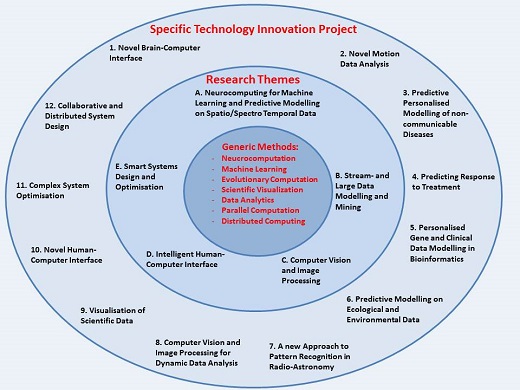 Current research
Learn more about the wide range of projects researchers at the AUT Knowledge Engineering and Discovery Research Institute are involved in.